The biology activities are a major strength of GIANT. The research platforms dedicated to the study of structure and function of proteins are coupled to laboratories recognized for their excellence; they combine high technology techniques and tools for diverse applications in the fields of heath, environment and energy. All of them are involved in high-level training programmes, to keep the Grenoble biology cluster at the leading edge of international science.
Crystallography serving the needs of the pharmaceutical industry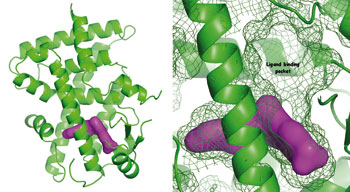 Copyright Sanofi-Aventis
Left: simplified diagram of the structure obtained using the ESRF MXpress service of a target protein (green) with its natural ligand (purple).
Right: Magnified view of the ligand binding pocket (green net) inside the protein (green), showing that the natural ligand (purple) occupies only a part of the pocket with the remaining space available for the design of inhibitors.