One of GIANT's main features is to restructure the site into six coherent centers of excellence, thereby increasing visibility and attractiveness at a worldwide level.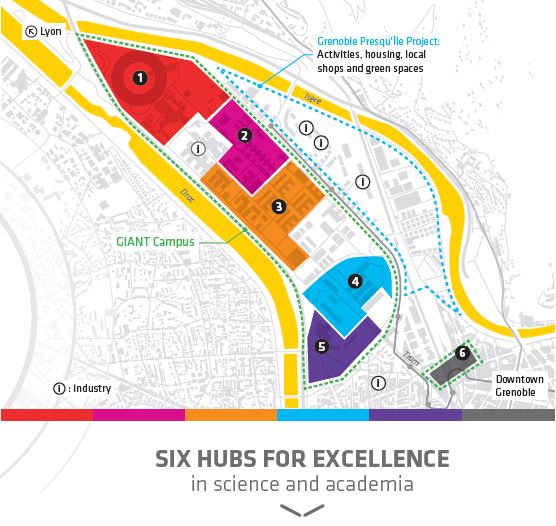 1. MAJOR EUROPEAN RESEARCH FACILITIES


A campus that is unique worldwide in its access to high level equipment used to explore materials and living matter.
2. FUNDAMENTAL RESEARCH
Essential support for research that advances knowledge and enables technological innovation.
3. ENERGY
Electrical networks, smart buildings, energy conversion and transfer, carbon-free energy sources and energy storage.
4.

INFORMATION TECHNOLOGY
MINATEC : innovation en micro et nanotechnologies et transfert technologique.
5. HEALTHCARE
A hub for medical, diagnostic and imaging technology with access to internationally recognized organizations.
6.

INNOVATION MANAGEMENT


Applied research and new business creation as well as innovation and industrial performance training for managers.
The main principle of these technological districts is to bring together research and technological platforms, higher education and industry to provide a coherent response to the main societal challenges: information and communication, energy and health.
This response has two main aims:
to accelerate the innovation chain, from fundamental research to industry;
to train the next generation of scientists, entrepreneurs and leaders in the best possible environment.
EPN science campus, CNRS and Grenoble Ecole de Management: three transversal centers of excellence
The success of the applied centers of excellence relies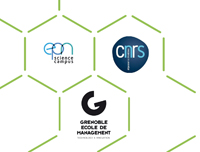 on one hand on the proximity and the tight links with upstream research;
and on the other hand on their interaction with experts in the development of new business models.
With regards to upstream research, GIANT benefits greatly from the presence of the EPN Science Campus, gathering three major European institutes, the ILL, the ESRF and the EMBL, and providing highly attractive instruments, able to explore the matter at atomic level, to the international scientific community as well as for industrials, which have an increasing need for such capabilities.
GIANT also regroups major institutes in nanosciences, cryogenics, material sciences and life science such as CNRS.
With regards to business experts, GIANT benefits from the presence on its site of one of the most dynamic business schools in Europe, Grenoble Ecole de Management.