Nuclear energy is an essential component in meeting growing demand for energy in the 21st Century, in conjunction with energy savings and renewable energy sources.
Nuclear research has been a major part of the CEA activity in the past decades. Today, CEA at Grenoble is dis-engaging from nuclear research involving nuclear research reactors and radioactive materials on site. Yet, the know how is being re-invested. Fundamental research on reactor physics and training of engineers in this field is very active. In the field of thermal hydraulics where research can be conducted with conventional means, without any need of radioactive materials, the teams of the CEA and Giant partners are actively pursuing their research on thermal-hydraulic simulations used for reactor safety and design.
With fundamental research on reactor physics and thermo-hydraulic simulations, GIANT partner institutions and companies are working on collaborative projects that cover certain technical and fundamental areas that can be useful in the field of nuclear energy.
This research is underpinned by a multi-disciplinary training program, GIANT offering one of the best nuclear-training sites in Europe.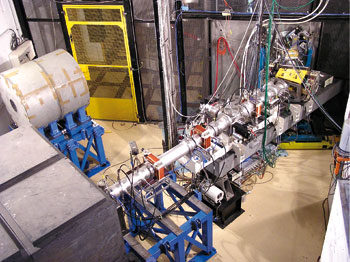 Graphite moderator block with channels for the insertion of various materials : PEREN neutronics platform
Copyright: LPSC