The success of an innovation campus is not only linked to the quality of research and innovation, it also depends on the quality of the environment in which the scientists, engineers, students and entrepreneurs work and live. A major urban transformation
Presqu'île Grenoble: a major urban project
In this context, the GIANT partners, together with their regional and national authorities, have launched a major urban transformation of the campus to shape it into a vibrant and attractive urban district.
Launched by architect Claude Vasconi, the urban development plan will be implemented under the guidance of architect Christian de Portzamparc. It will involve the creation of:
a vibrant living centre, around an innovative learning center, with restaurants, shops and services, leisure activities, hotels, and mixed housing (for students and families)
out-door leisure and sport facilities, with parks and green spaces, and reshaped river banks.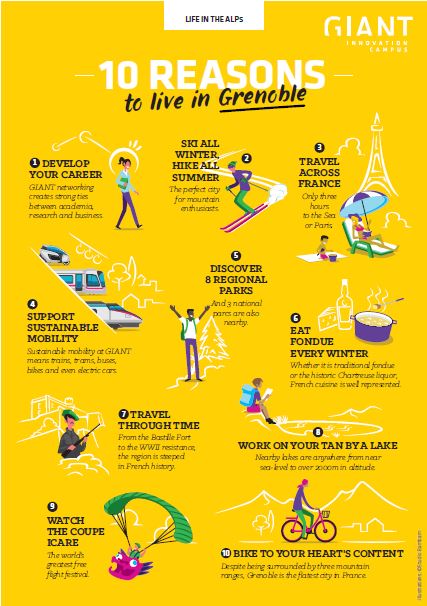 A pilot site for sustainable development
GIANT partners have adopted a comprehensive approach aiming at:
The development greentech energy, with projects on solar and hydraulic power plants and hydrogen production
An increase in energy efficiency, with the construction of low consumption buildings, the renovation of existing buildings (vegetal and solar roofs, insulation, etc.)
A comprehensive offer of green mobility possibilities, cars giving way to clean or low-carbon transport with a new tram line, and electric shuttles and vehicles
GIANT will therefore provide researchers, industry and policy makers with a large scale urban test bed for the next generation of smart and sustainable cities.