A perfect setting for rapid technology transfer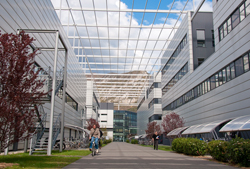 At the MINATEC High-Tech Building (BHT), companies and Grenoble-based public research institutions get together to form strategic alliances and national or international partnerships.
This 11,000 m² building (including 2,650 m² of clean rooms) provides the perfect setting for rapid technology transfer in the microelectronics, energy, optics, pharmaceutical, healthcare, and automotive industries.
The GIANT campus: a hotbed for joint innovation
By bringing together researchers from the public and private sectors – as well as professionals who rarely network outside their own industries – the GIANT campus provides a hotbed for joint innovation, leading to value-adding synergies, clear R&D goals, and practical innovations.
Alliances formed at the High-Tech Building are often formalized in multi-year agreements spanning many project phases, from initial research to the development of demonstrators and prototypes, and possibly trial production runs.
Around 20 technology companies participate in joint R&D projects at the Building, including large corporations, SMEs, and start-ups, which frequently have their entire business based there. Work carried out at the Building created 300 new jobs (as well as 1,000 jobs in related services) over the past four years.
MINATEC is now looking into creating a special biotech building along the same lines as the High-Tech Building.