A one-of-a-kind skill set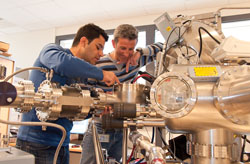 Six of the GIANT platforms are dedicated to nanotechnology research, making GIANT a world-class center for research and technology transfer in this field.
300-mm silicon platform: conducts research on the latest advancements (22 nm and 16 nm) as part of strategic partnerships with STMicroelectronics, IBM, Soitec, and component manufacturers involved in the development of new fabrication and metrology methods.
200 mm silicon platform: designs and produces small runs of heterogeneous components etched on chips or integrated into systems. The ability to produce components in small runs is crucial for speeding up technology transfer to industry and testing new markets. Most of this platform's activities involve research-industry partnerships.
Design center: with more than a hundred designers on-site and a broad range of fabrication and characterization tools, this platform works with partners including Thales, Nokia, Fujitsu, Freescale, STMicroelectronics, and numerous start-ups.
Technology resource consortium: a physiochemical and microstructural characterization platform that provides scientific and technological support to research projects along with a range of services to a broad slate of customers.
Nanocharacterization platform: unique in Europe, this platform is home to a variety of highly-technical characterization resources. It focuses on new physiochemical nanocharacterization methods.
Inter-university center for microelectronics and nanotechnology: this 3,000 m2 platform with 750 m2 of clean room space is open to researchers from academia and industry for educational, research, and technology transfer purposes