From materials to embedded prototypes
Battery platform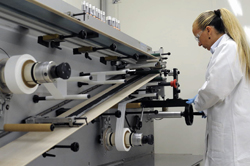 Provides a controlled-atmosphere prototyping lab and a testing equipment line for the development of custom prototypes of batteries of various capacities (from a few milliamps per hour to tens of amps per hour). The main applications for the platform's work are in mobile systems and transportation; a patented electric and hybrid vehicle technology developed on this platform has already been transferred to a manufacturer.
Fuel-cell platform
An end-to-end manufacturing and testing line for PEM (proton-exchange membrane) fuel cells. The Genepac technology used in PSA demo vehicles was developed at this platform. The platform is also working on prototypes for agricultural machinery, drones, and boats, and is developing a unique micro-fuel-cell line in partnership with major European manufacturers.
Prédis Center for Distributed Energy
This center for experimentation, education, and innovation in the field of distributed energy is equipped with the tools needed to conduct experiments on smart energy management. Its power grid models can be reconfigured to match actual grid conditions, using an expert supervision system to link different types of energy production. The center's development work is carried out in conjunction with leading energy industry companies.
Research consortium for advanced technology
This service unit supports partnerships among manufacturers and physics researchers. Its goal is to develop new materials for energy and create new materials through the use of intense magnetic fields. Its projects range from process design for materials production to the creation of demonstrators.