Genome sequencing has resulted in considerable progress in genetics in recent years, providing valuable insights into the functioning and evolution of living organisms. The characterization of alterations in the sequence of certain genes that may cause serious disorders has led to major advances in life sciences and health. Large-scale studies of genes and their role in protein synthesis are opening new areas of investigation from enzyme catalysis to the structuring of living matter. Researchers are focusing on proteins, the macromolecules that ensure the great diversity of cellular functions.
GIANT enables teams from various national and international organisations and universities to work together and share knowledge in key areas of life sciences. Participants, including the CEA, CNRS, EMBL, ESRF, ILL, INSERM, INRA and UJF, place the study of proteins at the heart of their work.
Through the analysis of living diversity and complexity, projects are set up to understand biological processes on the molecular scale by investigating the complex architectures of the proteins involved, observing their dynamic interactions and working principles. This vast project requires the development and implementation of advanced technological tools and focuses on three main areas of research:
These strategic research initiatives contribute to advanced technological and biotechnological applications for life sciences and health. GIANT allows researchers in nanotechnology to work together to develop innovative tools for life science and energy. They forge solid links between fundamental and targeted research, thus contributing to major advances for health, environment, biotechnologies, energy and agriculture.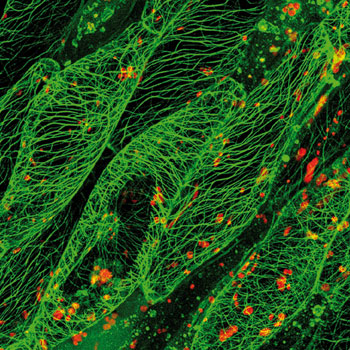 Confocal microscope image, employing a green fluorescent protein, of the network of proteins of the cytoskeleton in plant cells.
The chloroplasts show up thanks to the red flluorescence of the chlorophyll.
Copyright CEA / IRSTV