NeOseTM: Creating an Electronic Description
of WHAT YOU SMELL?
Nearly 10% of the world population is believed to suffer from olfactory disorders. Whether it is the inability to detect odors or an altered sense of smell, olfactory disorders can lead to depression and desocialization. In response, Aryballe Technologies has been working with Grenoble Ecole de Management researchers to launch NeOseTM, a portable odor detection device.

Aryballe Technologies and Vincent Mangematin, head of research at Grenoble Ecole de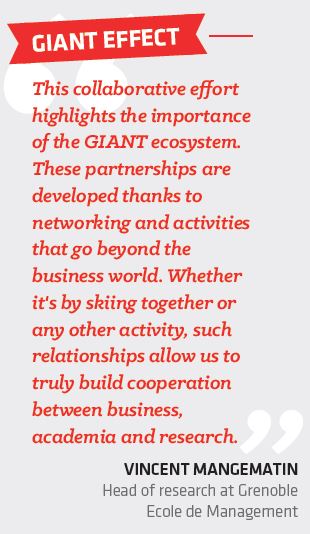 Management, have been working together to launch this new technology. "Anosmia, or the inability to detect odors, has yet to be formally recognized as a disability. One of our primary objectives is to organize the process through which governing authorities will recognize olfactory disorders. We have a technology, a startup and potential markets, but there is also a crucial societal contribution." says Mangematin.
PAIRING TECHNOLOGY AND MANAGEMENT RESEARCH
The second challenge is to develop a business model for NeOseTM. "This technology has enormous market potential, from household appliances to medical applications or the fragrance industry. The advantage of working with management researchers during the development process is that we can help guide the process by exploring potential markets in advance." adds Mangematin.
AN ELECTRONIC SIGNATURE COULD REVOLUTIONIZE THE WORLD OF ODORS
Currently, it is impossible to patent an odor. The difficulty lies in the fact there is no standardized method to describe a smell. Yet, as Mangematin explains: "This innovative technology has the potential to create an electronic signature for any odor. Whether it is fragrances or flavors, which are also based on odors, the ability to precisely define what we smell will revolutionize any industry that relies on odors."
RESEARCH TO DEVELOP A DATABASE OF ODORS
Before marketing a technology to detect odors, it is essential to define how the technology will catalogue each smell. Current research is focused on defining standards for signatures and a validation process. "The goal is to create a single internationally-recognized database. We are launching a chair that will be dedicated to this topic because it offers great potential for business and society." concludes Mangematin.