A "living lab" for innovation projects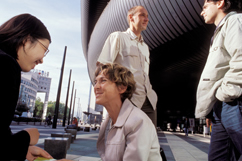 GIANT's technology and innovation management platform draws from the knowledge and experience of 20 Grenoble Ecole de Management faculty members. Whether they are teaching faculty or researchers, all are specialists in forward thinking, marketing, business models, and financial risk analysis. The number of Grenoble Ecole de Management faculty on the platform is expected to increase to 30 by 2011 in order to respond to growing demand for expertise in these issues.
Faculty staffing the platform apply their in-depth knowledge, methodological know-how, and extensive professional networks to technological innovation projects. They help ensure that these projects succeed while staying abreast of the latest trends in innovation management. Beyond the intrinsic value of new technology development, the platform also helps identify markets, establish clear roadmaps, assess both opportunities and risks, select the best business models, and plan ahead for any potential effects on society.
The platform uses industry benchmarks and other methods either developed in-house at Grenoble Ecole de Management or adapted from the broader business world to study issues like business models, organizational agility, and consumer behavior.
Joint research-industry teams play an active role in these projects, making the platform a living lab where novel ideas and concepts are tested in real-world situations.