GIANT: Creating synergies between research and industry
GIANT is a connector, facilitating the kinds of relationships between research and industry that help bring new technologies from lab to market in service to local, regional, national—and even international—economic development.
The GIANT campus: the epicenter of a sci-tech ecosystem that facilitates tech transfer
A number of major international companies have premises on the GIANT campus, making for a thriving ecosystem that fosters synergies between research and industry and facilitates tech transfer partnerships—both strategic priorities for GIANT. The Polytec business park alone is home to around fifteen companies, including Schneider Electric's flagship Technopole R&D center, bioMérieux, and CORYS.
Several international-caliber companies have chosen the GIANT campus as a base for their R&D activities: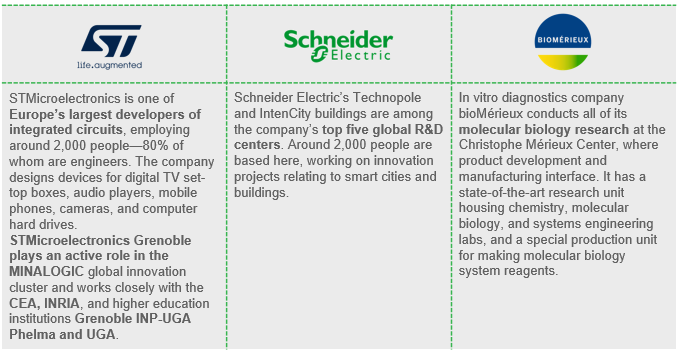 What GIANT's partners say: 
"The STMicroelectronics site in Grenoble employs 2,000 people, making it an anchor of the local economy. Geographically speaking, GIANT is our closest ecosystem. Our presence on the GIANT campus is instrumental to our academic and scientific partnerships, including multi-partner projects like the government-funded Technology Research Institutes (IRTs). Sharing a campus with GIANT's partners also allows us to pool and optimize resources. For example, we've helped run events like the Presqu'île Forum in 2018, and the Parvis des Sciences science fair that GIANT hosts each year. All organizations connected to GIANT—research labs, universities, startups, companies, local government agencies—are invited to have their say on strategic decisions relating to the campus, and ST Microelectronics is no exception, playing an active role in campus life and contributing to discussions about how the campus is run. The GIANT campus is not just a research hub. It's rapidly becoming a thriving residential area and a magnet for retail and service businesses. Banks and investors are also moving in. Being part of such a vibrant community is a real asset for our company."
Thierry Fensch, VP, Innovation & Partnerships, STMicroelectronics Grenoble, France
Industry at GIANT: key figures 
GIANT's synergies between scientific research, technology research, and industrial R&D have yielded some impressive results: 
There are more than 40 companies (10,000 jobs) on the campus

More than 500 startups have been created in the last 10 years 

GIANT has over 100 partnerships with companies of all sizes, from startups to multinational corporations, including

Airbus

,

STMicroelectronics

,

Schneider Electric

,

Nokia

,

Stellantis

,

Siemens

,

Texas Instruments

,

IBM

,

bioMérieux

,

Sanofi

,

Rossignol

,

Aledia

,

AstraZeneca

,

GlaxoSmithKline

,

and more

More than 700 patents are filed every year, making GIANT France's leading public-sector patent filer
The GIANT effect: building bridges between research and industry with the "Steps for Industry" program
Steps for Industry is a program for business partners. It aims to encourage collaboration and, more generally, promotes GIANT as a center of excellence for research and innovation. The program's content is provided by communities of experts from various GIANT member institutes. Each community addresses a specific topic through the lenses of multiple disciplines and approaches
GIANT: a hotbed for innovation and entrepreneurship
Many startups have their roots in laboratory research, and those based on the GIANT campus are no exception. These new businesses are usually created when researchers team up with partners to develop marketable applications for their technologies. If a technology is deemed to have market potential, then a startup can provide the manufacturing resources and business acumen to see it through.
Startups usually receive support and guidance from the research labs that spawned them. Assistance is available at all stages of the process, from business creation through to product launch. 
500 startups created at GIANT in 10 years!
Over the past decade the GIANT campus has seen the birth of over 500 startups. Most operate in high-tech industries, marketing innovations conceived by researchers at one of the GIANT campus laboratories. Together, these businesses now provide around 1,000 jobs.
GIANT's startups are based in one of the two High-Tech Buildings (BHTs) at MINATEC Entreprises, a mixed-economy company created in 2003 on the MINATEC micro and nanotechnology innovation campus. Here, they work alongside other startups and companies of all sizes, tackling joint R&D projects with Grenoble-based government research organizations. 
The year 2022 brought a new startup accelerator to the GIANT campus: the Village by CA, which is housed in the Y.Spot Partners building. The Village by CA is France's first network of startup accelerators. It has set up branches all over the country to help new businesses connect with the innovation ecosystem. The Grenoble branch is set to become an open innovation hub where a diverse community of businesses, researchers, scientists, and entrepreneurs come together to address the societal grand challenges of today and tomorrow. 
Pioneering technology platforms pool resources to drive research forward
GIANT has around twenty technology platforms covering nanotechnology, biotechnology, new energy technology, and innovation and technology management. These platforms provide cutting-edge design, characterization, and production equipment for a wide range of fields:
Electronic, electromagnetic, and electro-optical components

Chemical and biological systems

Software
Researchers working here have access to the advanced technologies and expertise they need to carry out their work. Each platform is backed by multiple partners, who share responsibility for staffing, funding, and the day-to-day running of the facilities.
GIANT's platforms facilitate tech transfer, and often play a pivotal role in major European research projects.
Nanoelectronics and microsystems platforms
The nanoelectronics and microsystems platforms rank alongside Albany (USA) and Leuven (Belgium) in the world's top three R&D sites for integrated circuits and microsystems on 200 mm (8″) and 300 mm (12″) wafers, a technology that is set to reach the market in the next three to five years.
Integrated circuit design and embedded systems design platforms
The integrated circuit design and embedded systems design platforms cover all stages in the development process, from initial design through to functional testing on prototypes. Use cases include both conventional and embedded systems. Find out more.
Materials characterization platform (CMTC) 
The materials characterization platform provides state-of-the-art characterization equipment for micro and nanostructures and is a space for experts to collaborate on research, training, and tech transfer projects.
Nanocharacterization platform
The nanocharacterization platform houses 40 pieces of major research equipment operated by researchers and technicians. It studies samples for research programs and conducts research on characterization techniques and protocols to provide responses to tomorrow's characterization needs.
The nanosafety platform addresses protection and safety issues arising from the use of nanomaterials. It conducts R&D in five key areas: toxicology, ecotoxicology, integration of nanomaterials in industrial processes and the lifecycle, industrial health, and characterization and methods. Alongside this, it provides training, consulting, assessment, and support services for businesses.
Interuniversity center for microelectronics and nanotechnology (CIME Nanotech)
CIME occupies a 3,000 sq. m site, a quarter of which is dedicated to cleanrooms. Researchers and companies can use the facilities for training, research, and tech transfer projects.
The nanobio platform is home to expert researchers and scientists who develop medical devices. Its work feeds into projects at other research labs, hospitals, and biomed companies. The center has close links with two neighboring institutes, Clinatec and the Biosciences and Biotechnology Institute of Grenoble, who share results of their basic research.
The Clinatec biomedical research center brings together clinical practitioners, biologists, and experts in micro and nanotechnology and electronics from the Grenoble University Medical Center, the CEA, Grenoble-Alpes University, and INSERM. Working together under one roof helps experts reach the proof-of-concept stage for new treatments, diagnostic techniques, and investigative methods more quickly, with the ultimate goal of getting new medical device technologies to patients faster. The center focuses on cancer, neurodegenerative diseases, and disability.
Hydrogen production and storage platform
The hydrogen production and storage platform develops new processes for producing, transforming, and storing hydrogen, to support the use of hydrogen as an energy source. Through partnerships with companies, it also designs and tests advanced demonstrators.
At the battery platform, experts use advanced research equipment to design and produce small runs of lithium-ion batteries for R&D projects. The platform welcomes collaboration with partner companies, who benefit from its unique facilities—no other platform in Europe offers as much lab space or covers such a broad scope of R&D activities.
The fuel cell platform tackles fuel cell design and optimization from a unique angle, addressing materials, membrane-electrode assemblies, stacks, diagnostics, modeling, and characterization. It has partnerships with around ten companies, including Symbio FCell and Areva Stockage d'Energie, to help bring its applied research to market.
Electric mobility platform
Developing electric and hybrid vehicles involves more than designing efficient batteries and fuel cells. The battery or fuel cell must be integrated into the powertrain and tested in real-world conditions. The test results must then be analyzed so that further improvements can be made. The electric mobility platform does all of these things, developing solutions for automotive applications as well as for all other types of land, air, and sea vehicles and vessels. The platform's impressive range of equipment and testing capabilities provide its partners with valuable feedback so that they can improve the quality and reliability of existing products and launch brand new ones.
Prédis Center for Distributed Energy (Grenoble INP – Prédis)
This center for experimentation, education, and innovation in the field of distributed energy is equipped with the tools needed to conduct experiments on smart energy management. Its power grid models can be configured to match actual grid conditions, using an expert supervision system to link different types of energy production. The center's development work is carried out in conjunction with leading energy industry companies.
Research consortium for advanced technology (CNRS-CRETA)
This service unit supports partnerships between manufacturers and physics researchers. Its goal is to develop new materials for energy and create new materials through the use of intense magnetic fields. Its projects range from process design for materials production to the creation of demonstrators.