The GIANT International Internship Programme (GIIP) is a unique opportunity for non-European students selected by their home institutions to gain some early international scientific research experience at Grenoble's state-of-the-art facilities.

Call for subject 2024
About GIIP
How does it works ?
Testimony
Past GIIP publications and editions
Contact
Call for subject 2024
You want to welcome an international student in your lab, your startup or your company in 2024 ? 
The GIIP team helps you to welcome your intern and accompany you at every steps!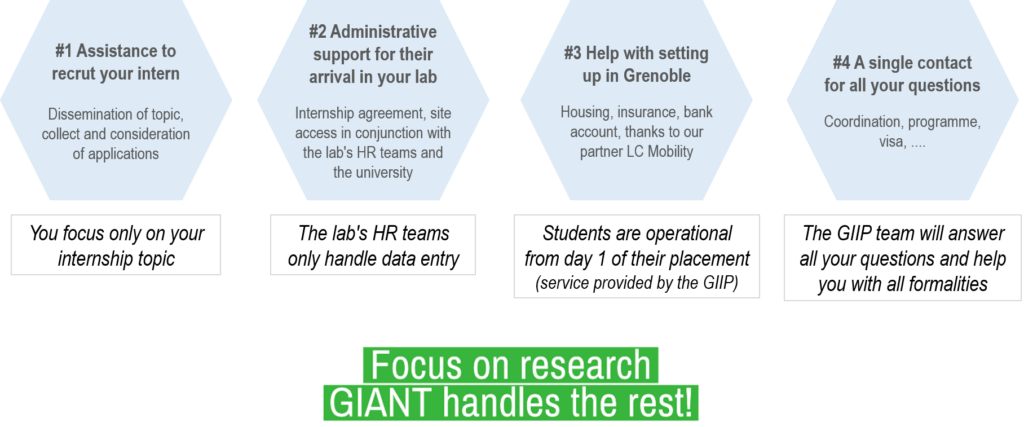 Submit your internship topic by 20 October 2023! 
(The placement allowance is paid by the host organisation. Before submitting make sure
that the budget has been approved by your line manager)
You have questions and you wish to know more about the GIIP ? 
Contact Floriane MARCUCCINI, programme officer
 floriane.marcuccini@cea.fr / 04 38 78 02 09
About GIIP
Make Grenoble the number one destination in France for high-level research experience.
In short, the GIIP is a 3 to 6 month internship in a laboratory, start-up or company on the GIANT Campus.
Benefits for partner universities
The scheme offers a simplified, reassuring, turnkey experience with a single point of contact within the GIANT team.
Their students can concentrate on their placement project and their experience in France as soon as they arrive, without wasting time on administrative formalities.
GIIP allows students to access and visit cutting-edge facilities that are usually inaccessible to them.
An advantage for Grenoble-based supervisors.
Hosting a trainee with the GIIP means that you will be supported at every stage of the trainee's integration.
It is also an opportunity for them to :
– Identify top-level talent, particularly for a doctoral programme
– Establish or strengthen international collaborations with a university by demonstrating the feasibility and reliability of hosting an international intern
– Contribute to the visibility and promotion of their laboratory's or company's international activities
How does it works ?
Who can take part in GIIP?
All the laboratories and structures on the GIANT Campus, as well as start-ups and companies in the Grenoble ecosystem can offer a GIIP internship to an international student.
Please note that only international students (whether on exchange or not) are eligible for the programme.
The different stages of GIIP : 
Have you already identified a student from an international university?
Get in touch with the GIIP team so that we can take over and integrate your
student into the programme.
Do you have any questions or would you like to find out more about GIIP?Contact Floriane MARCUCCINI, programme coordinator: floriane.marcuccini@cea.fr / 04 38 78 02 09
GIIP partner universities:
Since 2011, the GIIP has welcomed more than 330 students from partner universities around the world, whether through collaborative programmes, international exchanges or otherwise.
NORTH AMERICA
United States
-University of Pennsylvania: SEAS REACT Project (NSF PIRE)
-Massachusetts Institute of Technology – MIT (Massachusetts) : MIT-France MISTI programme
-University of Pittsburgh (Pennsylvania): HYBRID project (NSF PIRE)
-University of Berkeley (California)
-Syracuse University (NY)
-Northeastern University (Massachusetts)
-Stanislaus University (California)
-Furman University (Carolina)
-University of Louisiana (LSU)
-University of Toronto
-University of Connecticut
-University of Alabama
-University of Carnegie Mellon
-University of Stanford
-University of Florida
-Xavier University, New Orleans (Louisiana)
-Bennet College
-Morehouse College

Canada
-University of Sherbrooke

ASIA
Japan
-Chiba University (Tokyo), Faculty and Graduate School of Engineering
-Keio University (Tokyo), School of Integrated Design Engineering
-University of Tsukuba
-Tōhoku University
-University of Kyūshū

South Korea
-Sungkyunkwan University (SKKU)

China
-Zhejiang University

AFRICA
South Africa
-University of Witwater
SOUTH AMERICA
Argentina :
University of Cuyo (ARFITEC)
University of San Martin (ARFITEC)

Brazil : 
Federal University of Paraiba
Federal University of Lavras (BRAFITEC)

Peru
University of Lima

EUROPE
San Sebastian Mobility Agency (partnership via Grenoble Alpes Métropole)
Testimony
The GIANT International Internship Programme and its predecessor the MINATEC Summer Program in figures:
303 international students since 2011
20 interns have returned to Grenoble for their thesis, postdoc, or for another internship.
Have a look at our alumni's videos
SOFIA LOBO, MASSACHUSETTS INSTITUTE OF TECHNOLOGY, GIIP SUMMER INTAKE 2017
« Being a part of MISTI France has given me the opportunity to gain insight and knowledge into a world that was previously unknown to me. I learned so much during my time here, especially due to working in a clean room every day and being a part of a foreign environment. Coming to France for the summer has been the most exciting, adventurous, and liberating learning experience and I am so excited for the knowledge and connections it will bring into my future. »
EDGAR CAMPBELL, CALIFORNIA STATE UNIVERSITY STANISLAUS, GIIP SUMMER INTAKE 2013, EXTENDED HIS STAY UNTIL DECEMBER 2014
« I liked the lab I was placed in. I developed a good relationship with my mentor and was able to learn a lot of techniques. I liked the freedom the lab gave me. I was able to travel all over Europe and North Africa. I also liked the proximity of the mountains and beautiful hiking trails. I appreciated the public transportation, which is rare in America. I liked the large student population in the city. I was able to make a lot of friends from around the world. »
Why did you choose to stay in Grenoble for your research?
The initial internship was only for two months. I received money from both LSU and EMBL for those two months. I chose to stay in Grenoble because I liked the adventure it afforded me. I wanted to see how long I could last in a foreign environment. I wanted to travel and see as much of Europe as I could. I also wanted to get a publication to make myself a better candidate for grad school. My stay was extended multiple times. My project was progressing well and my supervisor wanted me to stay to finish it.
If you had something to say to the future interns who come to Grenoble, what would it be?
I would tell them to step out of their comfort zone. I have seen two groups of Americans come and go and they both created this little American bubble where they were safe from the strange French world outside. I started out of in this bubble as well, but I didn't really realize it until it was gone. The bubble was a bit like being one of those tourists that get into those big, comfortable, air-conditioned buses and only see beautiful thing through the windows. It is a richer experience when you set out of that bubble and immerse yourself into a new culture.
 DHRUV SESHADRI, CASE WESTERN RESERVE UNIVERSITY, GIIP SUMMER INTAKE 2014
« The GIIP program enabled me to do research at a high level in an international setting. I am extremely grateful for everything my colleagues and friends have done for me in France and look forward to keeping the connection. Grenoble is a fantastic place to do high class research and I strongly encourage those interested to pursue this awesome opportunity. »
STACIE FAIRLEY, ALABAMA STATE UNIVERSITY, MSP SUMMER 2012, RETURNED AS A POSTDOC
Where were you and what did you do before you came to Grenoble the first time?
« I am originally from Collins, MS. I went to school at Alabama State University, I studied Microbiology with emphasis on Immunology, Vaccine Development, and Nanoscience. Before coming to Grenoble, I was completing my PhD at Alabama State University in Montgomery, AL. »
How did you find out about the program, and why did you choose to come to Grenoble?
« I found out about the program through UPenn. I wanted to be a global researcher. I also wanted to see how different countries conduct research and thereby learn a different approach to doing science. »
Can you describe a typical day in Grenoble?
« I work from 9-5. My colleagues and I usually meet for dinner and drinks after work. Some days we schedule social events such as laser tag, poker night, movie night, bowling night, etc. I usually end my day drinking coffee on the balcony overlooking the mountains. »
Past GIIP publications and editions
Publications
Since 2011, the work of the 330 students hosted by the GIIP has contributed to a number of scientific publications, some of which are listed below
18 publications




| | |
| --- | --- |
| First-principles prediction of stable SiC cage structures and their synthesis pathways. Phys. Rev. B 82, 035431 – Published 21 July 2010 | Pascal Pochet, Luigi Genovese, Damien Caliste, Ian Rousseau, Stefan Goedecker, and Thierry Deutsch |
| Photo-induced charge carrier in bio-inspired and self-organized Donor-Acceptor (D/A) heterojunctions. Pennscience, 10(1), 2011, pp 22-25. | D. Ingato, D. Gasparutto, B. Pepin-Donat, P. Rannou |
| Spin signal in metallic lateral spin valves made by a multiple angle evaporation technique. 2011, Applied Physics Express 4, 063007 | Piotr Laczkowski, Laurent Vila, Sara Ferry, Alain Marty, Jean-Marie George, Henri Jaffrès, Albert Fert, Takashi Kimura, Tao Yang, YoshiChika Otani, Jean-Philippe Attané |
| Human insulin adsorption kinetics, conformational changes and amyloidal aggregate formation on hydrophobic surfaces. Acta Biomater. 2013 Feb;9(2):5070-9 | Nault L, Guo P, Jain B, Bréchet Y, Bruckert F, Weidenhaupt M. |
| Spatial patterning of BMP-2 and BMP-7 on biopolymer films and the guidance of muscle cell fate. Biomaterials. 2014 Apr; 35(13): 3975–3985. | Almodovar, J., Guillot, R., Monge, C., Vollaire, J., Seilimovic, S., Coll, J-L., Khademhosseini, A., and C. Picart |
| Functional consequences of the over-expression of TRPC6 channels in HEK cells: impact on the homeostasis of zinc.  Metallomics. 2014 Jul;6(7):1269-76. | Chevallet M, Jarvis L, Harel A, Luche S, Degot S, Chapuis V, Boulay G, Rabilloud T, Bouron A. |
| SPR imaging based electronic tongue via landscape images for complex mixture analysis. Talanta, Volume 130, 1 December 2014, Pages 49–54 | Maria Genua, Laurie-Amandine Garçon, Violette Mounier, Hillary Wehry, Arnaud Buhot, Martial Billon, Roberto Calemczuk, David Bonnaffé, Yanxia Hou, Thierry Livache |
| Spontaneous capillary flows in piecewise varying cross section microchannels. Sensors and Actuators B Chemical 223 · October 2015 | Jean Berthier , David Gosselin, Andrew Pham, François Boizot , Guillaume Delapierre, Naceur Belgacem, Didier Chaussy |
| Tuning Optical Properties of Functionalized Gold Nanorods through Controlled Interactions with Organic Semiconductors JOURNAL OF PHYSICAL CHEMISTRY C 2015 119 (31) p17899-17909 | Ferrier, RC ; Gines, G ; Gasparutto, D; Pepin-Donat; Rannou, P ; Composto, RJ |
| Dual effect of (LK)nL peptides on the onset of insulin amyloid fiber formation at hydrophobic surfaces. . Phys. Chem. B, 2015, 119 (33), pp 10543–10553 | Chouchane K, Vendrely C, Amari M, Moreaux K, Bruckert F and Weidenhaupt M |
| Polysilicon nanowire NEMS fabricated at low temperature for above IC NEMS mass sensing applications. 2015 IEEE International Electron Devices Meeting (IEDM). 2015. Pages: 18.3.1 – 18.3.4, DOI: 10.1109/IEDM.2015.7409726 | I. Ouerghi; M. Sansa; W. Ludurczak; L. Duraffourg; K. Benedetto; P. Besombes;T. Moffitt; B. Adams; D. Larmagnac; P. Gergaud; C. Poulain; A. I. Vidaña; C. Ladner; J. M. Fabbri; D. Muyard; G. Rodriguez; G. Rabille; O. Pollet; P. Brianceau; S. Kerdiles; S. Hentz; T. Ernst |
| Investigation of ambipolar signature in SiGeOI homojunction tunnel FETs. Ultimate Integration on Silicon (EUROSOI-ULIS), 2015 Joint International EUROSOI Workshop and International Conference on 2015, Pages: 145 – 148, DOI: 10.1109/ULIS.2015.7063794 | R. P. Oeflein; L. Hutin; J. Borrel; A. Villalon; C. Le Royer; S. Martinie; C. Tabone;M. Vinet |
| Combined small angle X-ray solution scattering with atomic force microscopy for characterizing radiation damage on biological macromolecules. BMC Struct Biol. 2016; 16: 18. | Luca Costa, Alexander Andriatis,Martha Brennich, Jean-Marie Teulon,Shu-wen W. Chen,Jean-Luc Pellequer, Adam Round |
| Multifrequency cw-EPR and DFT Studies of an Apparent Compressed Octahedral Cu(II) Complex. Inorg Chem. 2016 Feb 15;55(4):1497-504. | Hall N, Orio M, Gennari M, Wills C, Molton F, Philouze C, Jameson GB, Halcrow M, Blackman AG, Duboc C. |
| Capillary Flow Resistors: Local and Global Resistors. Langmuir, 2016, 32 (3), pp 915–921 | Jean Berthier , David Gosselin, Andrew Pham,  Guillaume Delapierre, Naceur Belgacem, Didier Chaussy |
| Investigation of ambipolar signature in SiGeOI homojunction tunnel FETs. Solid-State Electronics, Volume 115, Part B, January 2016, Pages 160–166 | L. Hutin ,R.P. Oeflein, J. Borrel, S. Martinie, C. Tabone, C. Le Royer ,M. Vinet |
| Detecting Unintended Schottky Junctions and Their Impact on Tunnel FET Characteristics. IEEE Transactions on Electron Devices? 2016, Volume: 63, Issue: 6, Pages: 2577 – 2582, DOI: 10.1109/TED.2016.2556580 | Louis Hutin; Cyrille Le Royer; Robert Pierce Oeflein; Sébastien Martinie; Julien Borrel; Vincent Delaye; Jean-Michel Hartmann; Claude Tabone |
| Superconducting aluminum heat switch with 3 nW equivalent resistance, 16 November 2021 | James Butterworth, Sébastien Triqueneaux, Šimon Midlik, Ilya Golokolenov, Anne Gerardin, Thibaut Gandit, Guillaume Donnier-Valentin, Johannes Goupy, M. Keith Phuthi, David Schmoranzer, Eddy Collin, and Andrew Fefferman |

Past research topics

The GIIP's research topics since 2011 have been very varied.

You can now consult the topics from previous years here. 
Contact
Contact us!
You are a GIANT Campus researcher, local start-up or company with questions about GIIP and how it works?
You are a student from a partner university or programme and have questions about the programme?
You are a member of the teaching staff of a non-European university and you are interested in setting up a partnership enabling your students to take part in the GIIP?
You can write to giant.internship@cea.fr to contact the GIIP team!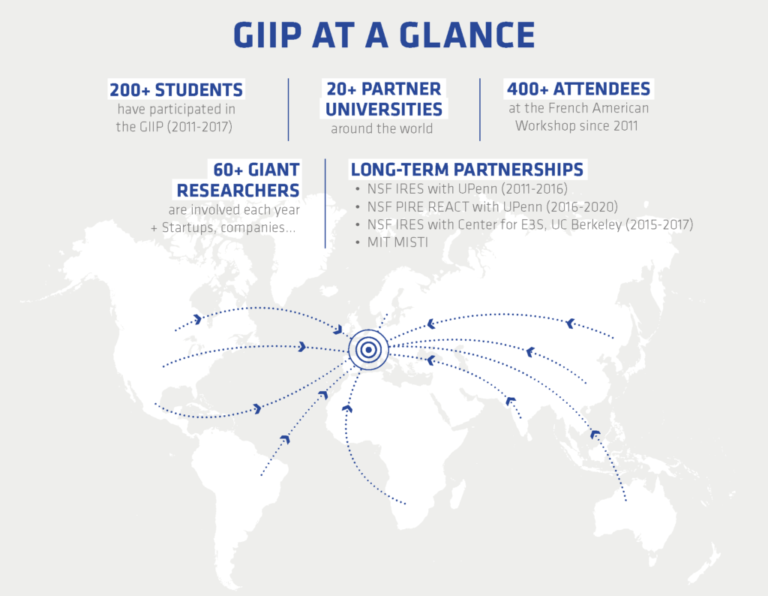 The programme is supported financially by: