Parvis des Sciences 2022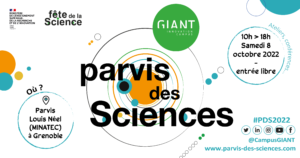 Each year, the national event of the Science Festival brings together the different actors of the scientific sector. This year, the national theme proposes a topic around climate change, mitigation and adaptation.
In Grenoble, the GIANT Innovation Campus and its partners are welcoming all publics to the Parvis des Sciences (event in french), at Maison MINATEC, the 8 October 2022.