The JSIam is coming soon! – 23rd March 2023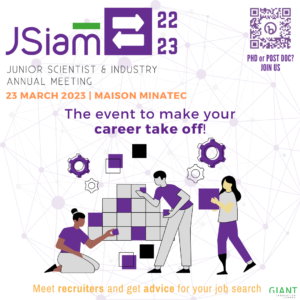 The GIANT team is organizing the JSIam on the 23rd of March, 2023 at Maison MINATEC!
The Junior Scientist & Industry annual meeting is a day-long networking event that gives junior scientists (PhD and post-doc candidates) the opportunity to meet professionals from industrial companies, consulting firms, and startups.
Junior scientists can explore career opportunities outside government research institutions and find the tools and information they need to prepare. The day also represents a valuable networking opportunity. For participating businesses, the day offers a chance to identify up-and-coming talent and keep abreast of the latest research coming out of GIANT campus laboratories.